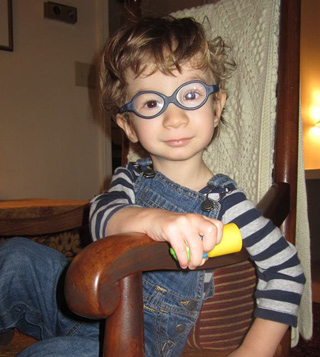 Spreading awareness is the key to understanding and accepting.  It is the key to helping others realize the significance and outlook of a PTLS diagnosis.  For so many families, hearing the diagnosis from a doctor who most likely has never heard of the syndrome; is not always the most reassuring.  Less helpful still, is the fact that there are so few resources out there to take advantage of when it comes to understanding the diagnosis.  That's where awareness comes in and that's why this month and this day: March 8, is so important to our children, to us and the community that surrounds us, both medical and personal.
My name is Elizabeth Watts  and I am the editor for the PTLS newsletter.  My background includes working as a producer for several television stations in both Virginia and in Boston.  For the past two years I have worked as a journalist for the local newspaper in Roanoke, Virginia.  I have recently resigned that position as my husband and I are expecting our second child, but have now taken up the volunteer position as editor for this newsletter.
I am thrilled to be writing again and am happy to be helping support the PTLS Foundation in any way that I can. Our son, William , was diagnosed with Potocki-Lupski syndrome when he was a little over a year old.  He is now two years old and is our pride and joy.
From birth, Will was a delight… he has been the love of our lives since the moment he took his first breath.  But before his diagnosis, we struggled.  We struggled with feeding… he was diagnosed with failure to thrive… we struggled not knowing what was going on.  I knew, as only a mother knows, that something wasn't quite right.  Something about Will was different, even as special as I knew he was.  As a mother, I just knew.  I'm sure many of you have had the same experience.
My husband and I struggled with the decision to have the genetic test done… should we wait, we kept asking ourselves. Finally we realized that it was better to know what was going on.  We wanted to become aware of what was going on with our beloved son.
Once we learned of the diagnosis, we were heartbroken, but in one way, we were relieved.  We had become aware of what was going on with our dear son and became aware of how we could better help him.
Our journey has been a long one, although I know many of you reading this have been going through this experience much longer than the year that my husband and I have been on the journey.  Still, we can all relate to one another and help each other through support.
Our PTLS community is a tight one and one through which many people have been helped. This community is important to spreading awareness throughout the world.
Below I have outlined several key events that families throughout the United States and the world have participated in or hosted in order to spread awareness this March. Awareness is key to helping others understand PTLS… understand our beautiful, wonderful children… it is the key to opening the door to new research, new discoveries, and a life full of great potential.
After our son's diagnosis
Julie Smith-Centeno has helped countless families with her testimony and strength. In fact, the day after our son's diagnosis, Julie called us to ask how we were doing. It felt like someone had thrown a lifeline out to us as we were drowning. We had no idea what to do and what to think before Julie called. Hearing her thoughts, feelings and reassurance helped us start to recover from the shock.