Ian was diagnosed at age three weeks old, with a normal pregnancy and a very difficult labor resulting in emergency C- Section. His kidneys were very small and took a hit during labor. He was born with a positional clubfoot. He also did not have the suck reflex to breastfeed or drink from a bottle. All of these factors led to a month long stay in NICU. General diagnosis: Failure to Thrive. Initial genetic testing came back negative but we pushed for more testing and eventually the Geneticist found the Duplication, but had no information on it.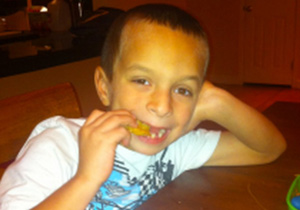 He had a weak immunity as a baby/toddler. Simple colds would last weeks, or turn into pneumonia or RSV. He was extremely hypotonic and didn't sit up or crawl until 9 months old and eventually walked at 18 months. Sleeping has never been an issue, but feeding was a major struggle. He would gag very easily. He ate baby food, oatmeal, yogurt, and Pediasure the first 3 years. Then, all of a sudden, he started trying new foods like pasta, fruit and veggies. His club foot straightened, his immunity improved, and we have come to accept that Ian does things on his own time frame. Not ours.
Ian does not yet speak. He uses sign language and graduated from a PECS book to an ipad program called Proloquo2Go. His receptive language is really good and we know speech will come. I have never been surer of anything than knowing that someday I will hear his beautiful voice say "Hi Mom".
Ian is in a full day Special Education class in a public school. Initially, I ignored the knot in my stomach, and signed an agreement unsure of his educational goals were appropriate and uncertain if his therapies were enough. It was in speaking with another PTLS parent when I realized Ian wasn't receiving anything close to the services that child was getting. She had an Advocate, so I hired one, too. It changed our lives. She helped me find my voice.
He now receives 2 hours speech therapy in school, and two hours private PROMPT Speech Therapy a week. He gets 10 hours in home ABA a week and now has an ABA trained Aide assigned to him full time at school. He gets OT, PT, and Adaptive PE as well. After attending the PTLS Conference in Houston in 2012, we had his heart checked out and found that he has an enlarged aortic root.
He is seen by Nephrology for his low functioning kidneys. However, that doesn't paint a picture as to who Ian is. Ian is a boy who loves swimming, soccer, Monster Trucks and motocross. He loves French fries. He loves to drive in the car with the windows down. He'd rather eat a cherry tomato than a piece of chocolate. He cries when his brother cries. He thinks America's Funniest Videos is the best TV on Earth. He loves a good tickle. He doesn't know what it is to be mean or grumpy. He loves slides. But the best thing is….He is happy. – Stacey (Mom)